Four Reasons You're Not On Fire and How to Fix It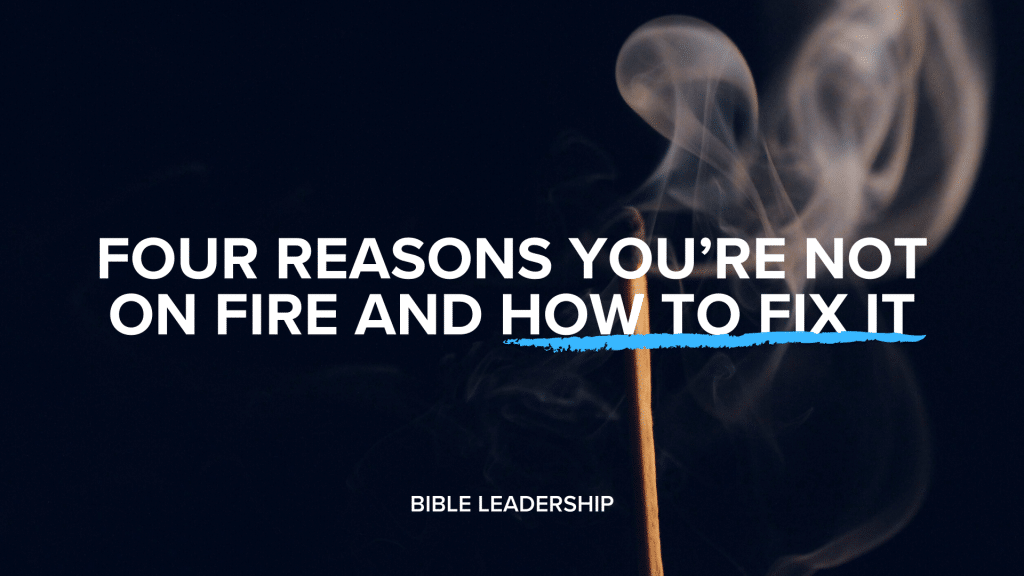 Read Time ~4 Minutes
One of Satan's greatest lies is the suggestion that feeling close to God is a passing phase.
I don't want to suggest that walking with Jesus is a feeling, but a consistently cold heart toward our Creator is often a sign of relational distance.
This propensity toward distance is the reason James says we should draw near to God and He would draw near to us (see James 4:8).
I mean this humbly but urgently and unapologetically: You were made to passionately burn for up close and personal connection with Jesus Christ. 
Not to overstate it, but almost everything is easier when we're on fire. 
This "being on fire" or experiential closeness with Jesus, brings 
A sense of affection for our Father and Forgiver

A weightiness to conviction as though we've personally wounded our friend

A desire for more of our beloved as the pulls of the world fade into the background
Being on fire is the overwhelming sense of God's immediacy and activity all around us. 
So why aren't people enjoying a passionate, fiery relationship with God?
Why does He often seem more like a concept than a person in the room?
Here are a few humble suggestions for why you may not be on fire anymore, in no particular order. 
1. You Don't Make Pursuing Jesus a Priority. 
"Seek the Kingdom of God above all else, and live righteously, and he will give you everything you need." (Matthew 6:33, NLT)
Failure to seek Jesus' FACE (not just things from His hand – see Psalms 105:4) will snuff out all fire before it even starts. 
Jesus said, "Above all else."
Before the laundry

Before the game

Before the cleaning

Before the company arrives

Before the meal
About now is the point where you should roll down your car window at 65 mph and drop whatever is in your excuse bag. 
Use any alibi you want, but if you don't seek to spend time alone with Jesus, you will NEVER be on fire.  
You can still go to heaven . . . but you won't experience much of it before you get there.  
2. You're Compromised And Pretending You're Not.
You won't be on fire if you're compromising by:
Sleeping around with people.

Not taking authority over your mouth.

Failing to exercise self-discipline.

Taking advantage of people.

Mistreating others.

Hanging with a bunch of company and grieves the Holy Spirit.

Etc.
"Therefore, "come out from them and be separate, says the Lord. Touch no unclean thing, and I will receive you." (2 Corinthians 6:17, NIV)
We can't consistently push God away AND expect Him to come close (see James 4:8 again). You can't cover your ears to His conviction and expect Him to hear your plea for more of His presence.
Why don't you decide to get radical and chase down every Canaanite (area of compromise) inhabiting God's land (YOU)? You don't have to be perfect, but you do have to oppose evil.
3. You Refuse to Fast.
This one may be a bigger deal than you think. 
Scripture testifies that seasons of fasting are a part of life for those who would take hold of God, including Jesus (Matthew 4:2), Moses (Exodus 34:28), David (2 Samuel 12:16), and Daniel (Daniel 1:12). And Jesus confirmed to the disciples that failure to fast would limit their power against evil (see Matthew 17:21).
If you CAN fast but you're running from it, it's because you're not desperate enough yet to deny your appetites. People who are on fire are willing to temporarily part with legitimate things in life because they believe God is a rewarder of those who seek Him (see Hebrews 11:6).
Fast and ask God to give you more fire. 
Speaking of asking . . . 
4. You Don't ASK For Fire. 
Fire comes from God. If you were ever firey, it's because He was GIVING you fire. You don't have it now because you don't ask now (see James 4:2). 
What could God do if we combined all four?  
Try crying out for fire. FAST for fire.
It's not too late.
Have you failed to seek Him?  
There is forgiveness for all sin, and God looks at the heart. He knows when we've made mistakes and are trying to move in His direction, and you can trust Him to honor that (see 1 Samuel 2:30).
A life on fire is your inheritance in Christ. 
Please don't settle for anything less.
Was this helpful?  It means a ton when you comment and share this resource.
Related Resources