How to Get it Back When Vision and Passion Leak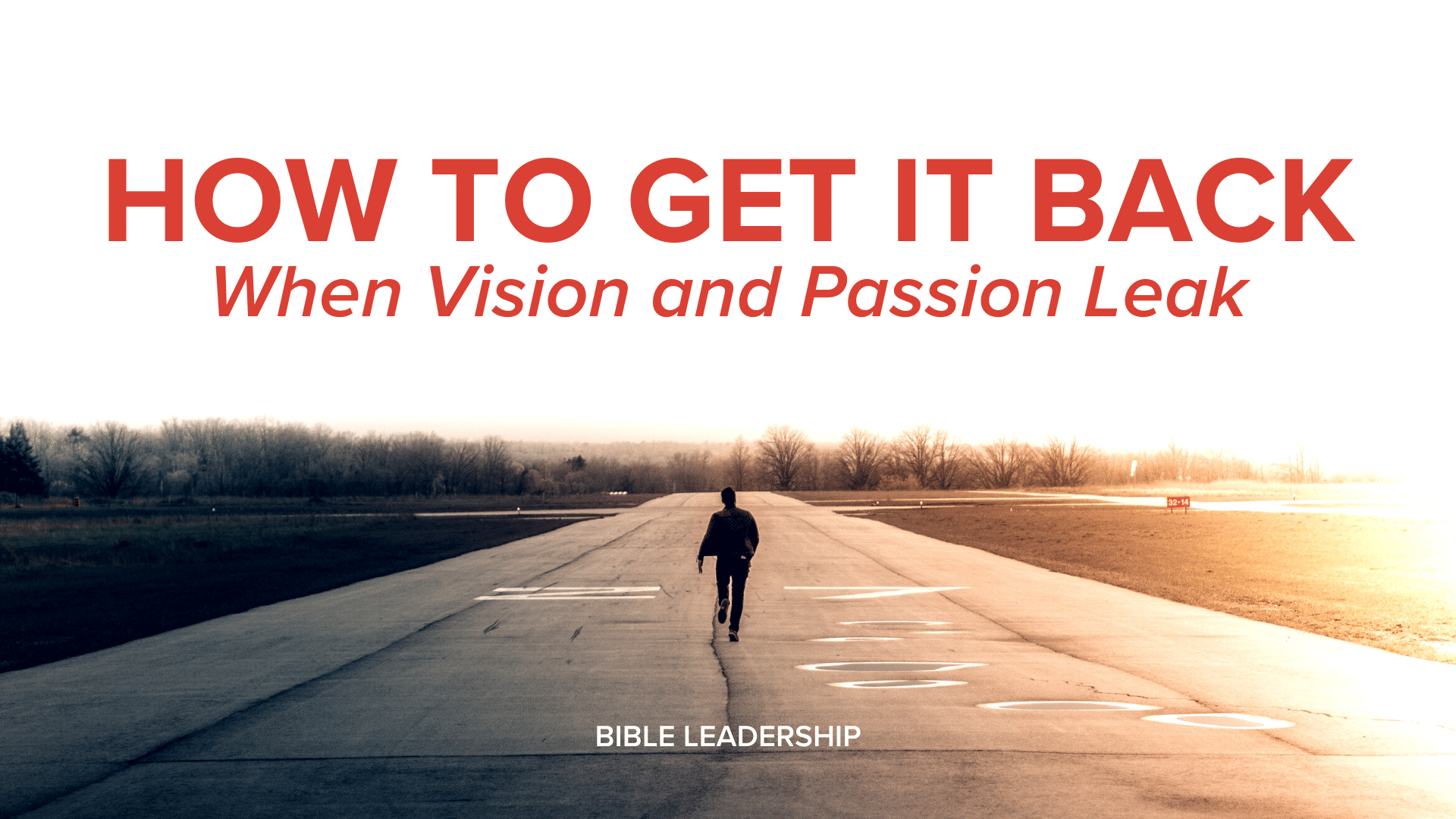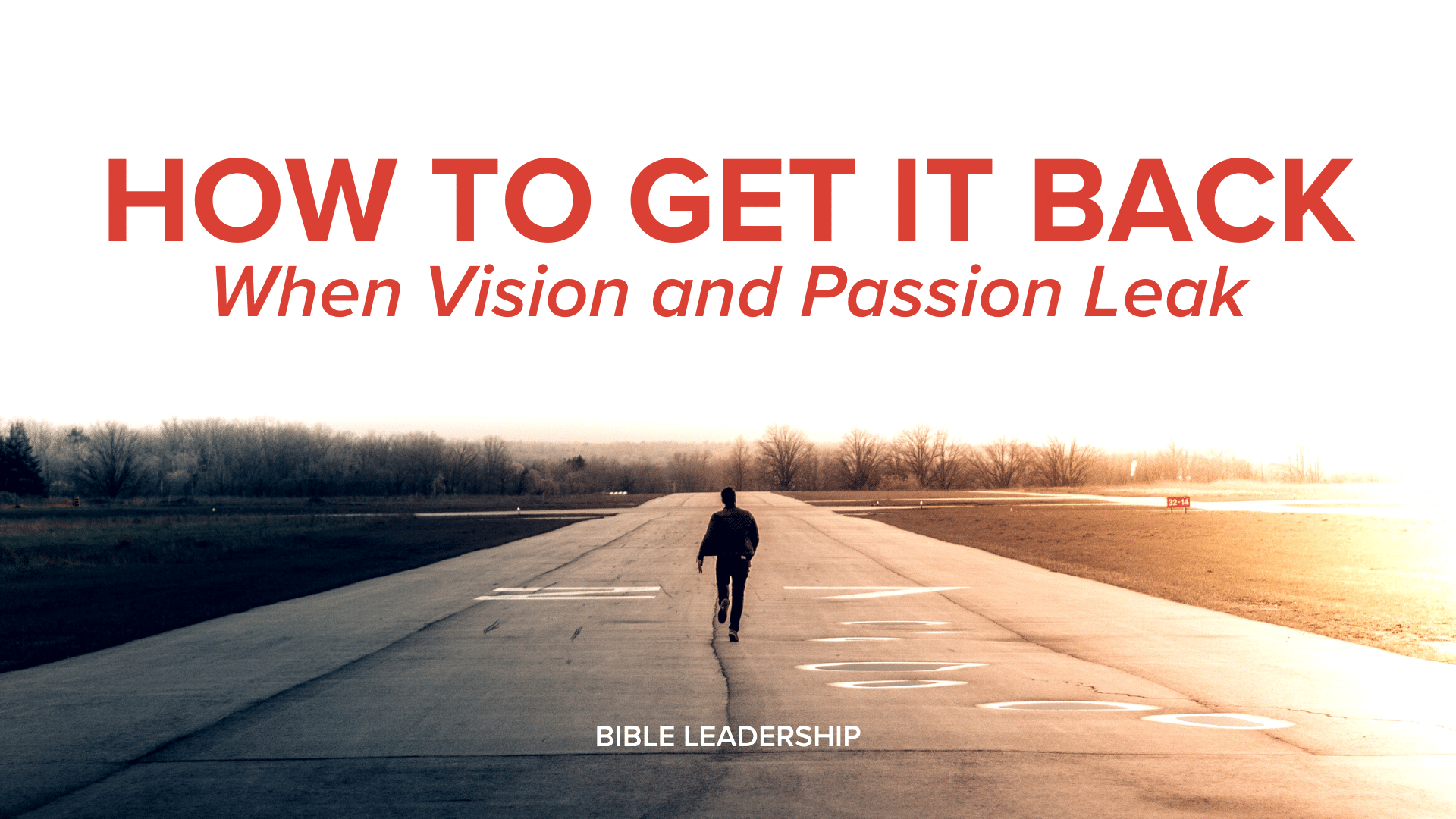 Read Time ~4 Minutes
Wise men store up knowledge [in mind and heart]. Proverbs 10:14, AMP
The problem with vision, passion, and insight is that it leaks.  Even if you've been leading for decades, everybody's cup runs low.
My problem isn't always what I don't know but what I USED TO KNOW.
So how do we retrieve the inspiriting, motivating, and worship-producing insights that strengthened us in the past?
Take Action
Leadership Lesson: Even though you learned it in the past, old manna is not out of date. 
Eat it again.
To review material you've already known:
Take 30 minutes on your day off and slowly review the highlights of book that really impacted you.

Take a morning with God and pray through your highlights in your Bible (or just a book of the Bible). You'll find fresh manna in there for sure.

Re-listen to an audiobook that tremendously impacted you.

Old journals (I need to skim the oldest ones because, honestly, I wrote too much down. Now I just write the big ideas from my life and Quiet Time in Evernote and add topical tags so I can find them easily later).
The TOP Books I review with consistency to REFILL on ideas I already knew, but need to know again.
Quick Wins
Looking for some quick wins?
Here are the top posts from markcarter.life since we launched in January of 2018.
1. What To Do (When You Don't Know What To Do) – Part 2: Do Good
 Leadership Lesson: Leaders don't just do big things that APPEAR significant. Leaders do LITTLE THINGS of significance, whenever they can, to remind themselves and others what Jesus is like.
2. Protect a Culture of Graciousness (You Can't Stop the Flow)
 When a person or project goes a differently than anticipated, you can choose to either hurt the team by being belligerent and grumpy, or you can protect a culture of graciousness.
3. When Your World Caves In – Part 1
HOW we go through the crucible determines how VALUABLE it is and how we COME OUT on the other side.
4. Why We Sometimes Need It To Be Difficult
Leadership Lesson: To become more effective in anything, we must be willing to be stretched.
5. Four Reasons You're Not On Fire And How To Fix It
 A few humble suggestions for why you may not be on fire anymore, in no particular order.
And here are the top Bible Leadership Podcast since we launched in 2019.
1. Six Things You Can Do To Become A More Promotable Leader
Bible leaders are reliable – they are marked by an internal and external constancy that is both seen and felt.
2. Three Questions For Those Who Have Experienced Rejection In Leadership
Rejection and unforgiveness are dangerous and often hidden enemies of a leader.  How can Bible leaders maintain a soft and flowing heart over the long haul?
3. Four Completely Avoidable Leadership Mistakes That Grieve the Holy Spirit (Part 1)
When it comes to spiritual leadership, is there ever a danger of getting out AHEAD of God and not realizing it?
Leadership Lesson: Even though you learned it in the past, old manna is not out of date.
What are some of your favorite spiritual and leadership resources to review?
This post is part of a goodie bag, full of related resources! Find it here: https://bit.ly/3fNY7lZ
Posted on May 8, 2019
 *I may earn a small commission for my endorsement of these books. Your purchase helps support our efforts to develop bible leaders.