How To Get Out Of A Lust Trap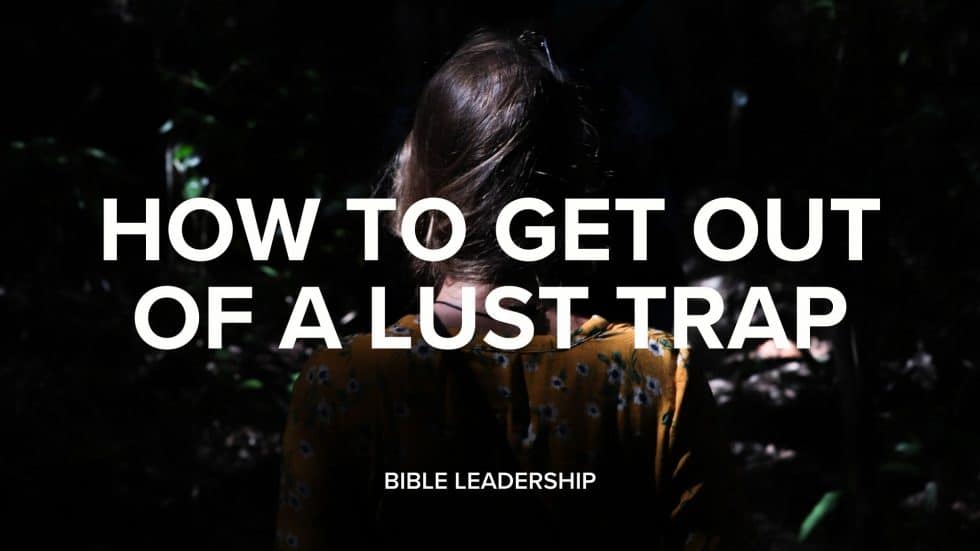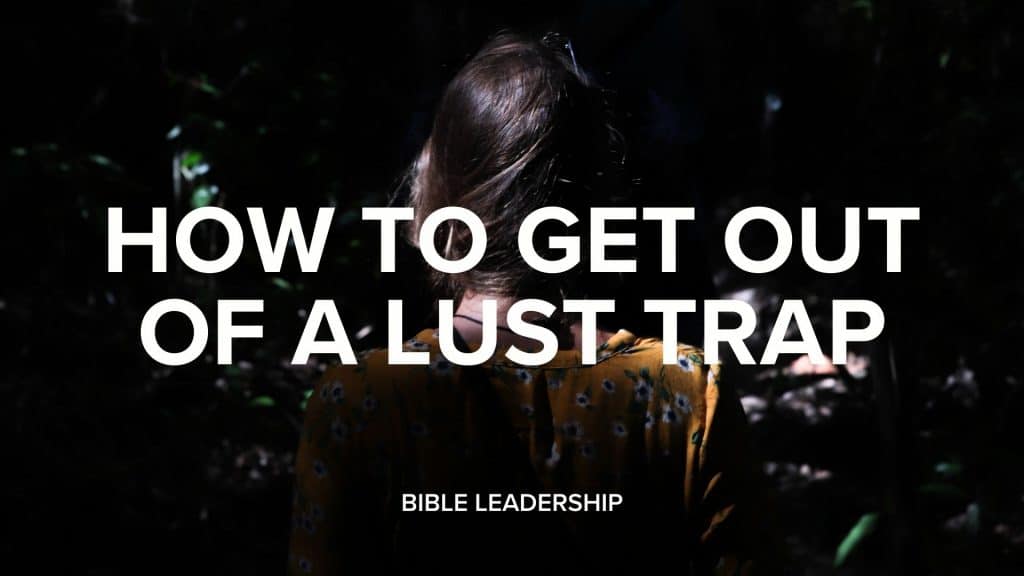 Like it or not, you have a spiritual enemy who would love to DESTROY your leadership.  And if you have ever struggled with LUST, this will be one of his main strategies to do it.  
Sexual lust is the act of entertaining or fostering any desire for that which is God has said is forbidden.  
Any time we feed an impulse to satisfy our human desire for physical, intimate connection that is outside the boundaries of God's word, we are giving ground in our hearts to a rival of Jesus.
And this rival wants all of your impact to be tainted, crumbling, and ultimately destroyed.  
As a fellow lust-er, let me suggest that "lust" sounds prettier than it is.  A lustful heart is a one that salivates at the suggestion of sexually devouring another human God created us to love and serve (and NOT worship). 
Lust can pounce in any place and at any time. 
You don't have to be at the gym, the pool, or the beach to walk smack into a lust-trap.
Maybe you're tired.

Perhaps the rom-com you watched last night stirred up imaginations that haven't yet been appropriately submitted to Christ.

It's possible you're just human, and Satan is tempting you straight out of NOWHERE. 
Try this:
"Walk by the Spirit, and you will not gratify the desires of the flesh." (Galatians 5:16, ESV)
Have you ever noticed that it is incredibly tough to lust and praise God at the same time?
Walking in the Spirit, staying focused on and attentive to the glorious person of Jesus, it the OPPOSITE of being focused on flesh.
Let's say you're walking about on planet earth and see a human (digital or in person) who would typically incite you to lustful thoughts. 
Here are four ways you can turn this temptation into a Kingdom-expanding opportunity:
1. Praise God that ONLY HE Could Create Such Attractive Creatures. 
Aren't you glad the species we're designed to mate with don't look like orcs?
Friend, there is nothing sinful about noticing that someone is attractive. 
But gritting your teeth and trying to convince yourself that they're NOT appealing isn't likely to work. 
Instead, remind yourself what they are attractive FOR. 
They are NOT attractive so that you can devour them (in your mind), but to rather show forth God's creative brilliance and awesome power. 
Right there in the middle of your lust temptation, begin to praise Him:
"Oh Lord, ONLY You could have designed such creatures like these." 
"They are beautiful because YOU are beautiful and YOU make beautiful things to declare Your glory to the world. "
Now you are in the Spirit.
2. Pray They'd Be Protected.
Chances are, if you've noticed their God-given beauty, you're not the first.
It's horrible to think about, but what if someone with greater inclinations toward evil is also tempted toward this person soon (i.e. Rape)?  
God forbid.
Instead of TAKING from them, use the tool of prayer to do something FOR them.
You are a protector, not a devourer.
Use this opportunity to be the friend they don't know they have, and pray against them becoming a target for predators.
Go further than that. Pray that this person you're almost adulterating in your mind marries (or is married to) a godly Jesus-lover who BLOWS THEIR MIND.
3. Pray They'd Have A Hunger For Jesus
Now DECIDE to think, "This person is not mine. They are not FOR me. They are for JESUS."
This is a PERSON, beloved of God, whom Jesus died for. And THIER greatest need is Him.
You've already switched from sinfully desiring something FROM them to desiring something FOR their benefit, so go ahead and continue to pray this person would: 
come to know and love Jesus radically,

be obviously overflowing with the Holy Spirit,

and become a love-sick, world-changing, follower of Christ.
They're attractive, huh? 
Pray that even with their good looks, they'd NOT BE SATISFIED with exteriors only.
Pray that they'd hear the Father drawing them to Himself (see John 6:44).
Pray they'd grow to cherish the inner person of the heart more than the fading glory of the flesh.
4. Pray For Yourself – That You'd Not Be Distracted From Devotion To Christ. 
Now pan out. 
You see what is happening here, don't you?
The enemy is seeking not only to scoop fire into your lap (see Proverbs 6:27), but to fill your heart with some other love than Christ.  He wants you to love the world and to be at home in her ways (see 1 John 2:15-16).
Your influence is too significant, and the call is too high to lose focus now. 
When you find yourself lusting, pray that Christ would draw you even closer to Himself, just to irritate the enemy. 
No matter how far you've fallen or how long you've been there, GET UP and flee to the safety of the cross where Jesus will heal and restore you (accountability and confession are HUGE here too) (see 1 John 1:9). 
Now congratulations are in order.  The enemy's plan has backfired.
You've gone from almost falling into a snare (or being straight-up IN one) to heroically becoming a blessing to your brother or sister.
Sounds like a new creature to me (see 2 Corinthians 5:17).
Posted on September 5, 2018