This is What You Need to Know About Being Offended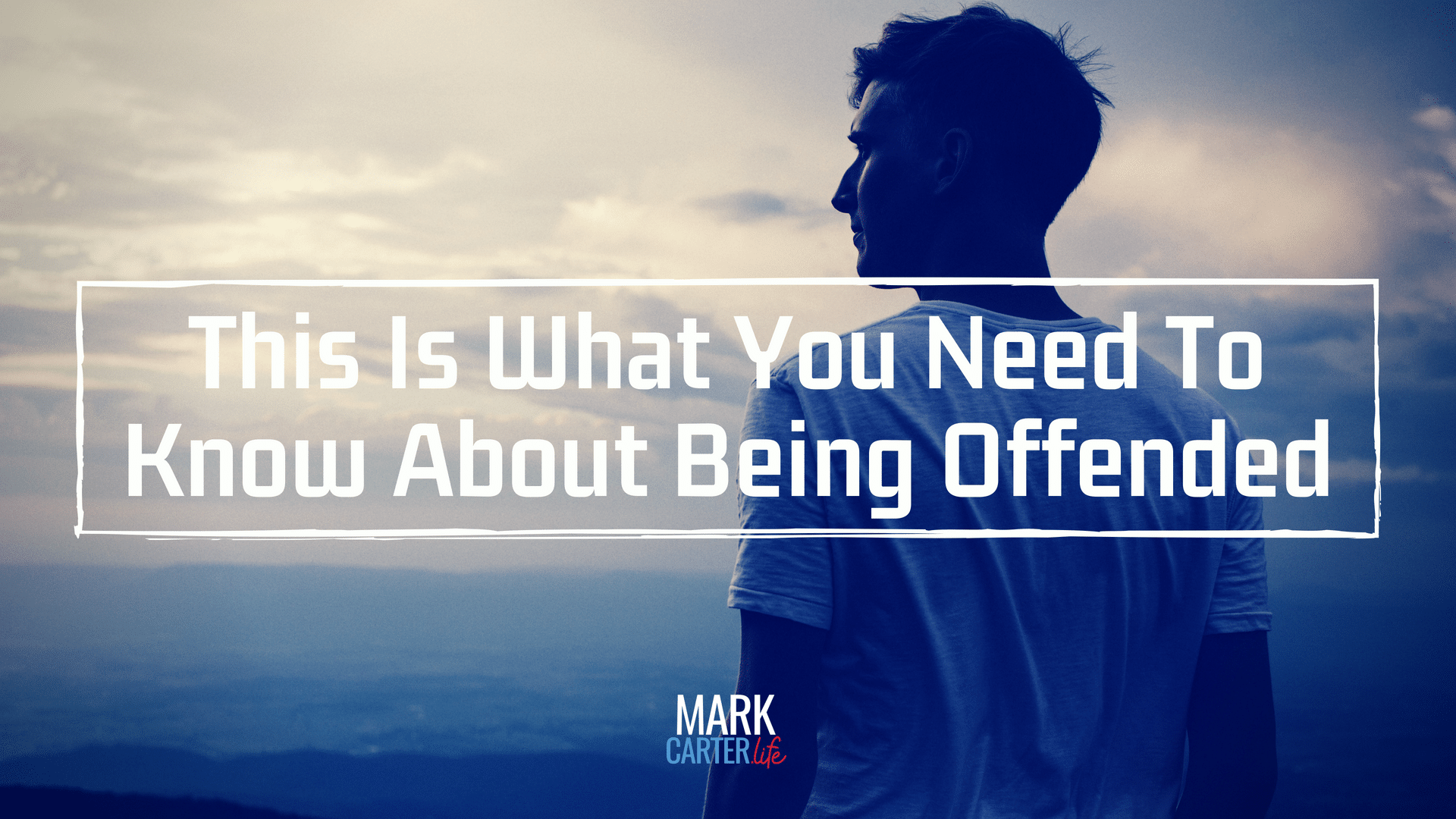 We live in a time when everyone seems easily offended about almost anything.  
But for spiritual leaders, the stakes are higher than just getting a little hot-around-the-collar. There is no telling how many potential leaders have been DISQUALIFIED, DERAILED, and DIVERTED from their destiny because they gave in to an offended heart.
Offense is a form of pride that says, "I shouldn't have to put up with this." We get offended when we feel insulted, undervalued, overlooked, or when someone doesn't recognize our expertise in an area, causing our PRIDE to bolt upright up to our defense. 
Being offended is the enemy of a leader.
An offended heart blinds us, warps us, turn us inward, and begins us down a path of fighting for OURSELVES (our rights, our experience, our opinions) rather than serving Jesus. 
 The Bible is filled with examples of those who MISSED what God had for them because they were irritated with the agent God was attempting to speak to them through.  God wasn't working according to their presuppositions, and they couldn't imagine Him working any other way.
Korah was offended with Moses' God-assigned role of leading the Israelites (See Numbers 16:3). resulting in SWIFT JUDGMENT (Numbers 16:31-35).

Many of the Pharisees were perpetually offended with Jesus (Matthew 15:12), resulting in MISSED OPPORTUNITY (Luke 19:44).

Even many of those who initially followed Jesus were offended by the level of devotion He demanded (John 6:42).
The wasted potential and wasted years are heart-wrenching.
When we are easily (or even with some effort) offended, 
Our perspective often becomes skewed.

Doors of opportunity may close.

Bitterness may grow.

Grace will definitely evaporate (see James 4:6) 

We can often read previous hurts INTO new situations, sabotaging them

Perhaps saddest of all, we may pollute the lives of OTHERS we come into contact with.
We never know how much rides on recovering from an offense.
It takes maturity and discernment to grow into NOT being offended, and rest assured, the enemy will bring us plenty of opportunities.  
The boss doesn't believe in your plan.

The team doesn't trust your instincts the way they should by now. 

Your spouse doesn't acknowledge or honor the thought you put into a getaway 

A grumbling guest angrily accuses you of "doing it wrong" – even though they don't know what they're talking about, and you're already spending more time with them than is customary. 
Offense tests are tests that EVERY spiritual leader will need to pass, and likely MORE THAN ONCE.
The next few posts will include tips and insights on avoiding and recovering from the quicksand of offense. 
Master, 
I don't want my pride, hurts, or presuppositions to keep me from becoming the person and leader You want me to be. Help me process my previous pains with You, and let go of that which will hold me back. Help me forgive my accusers, pray for them, and profit from the lessons you're attempting to teach me. Amen.