Who Is On Your Board of Directors?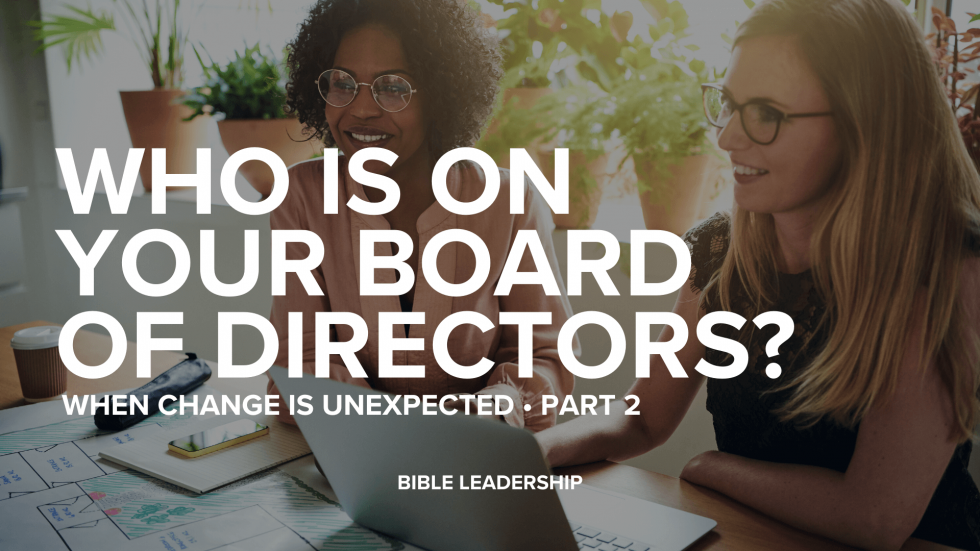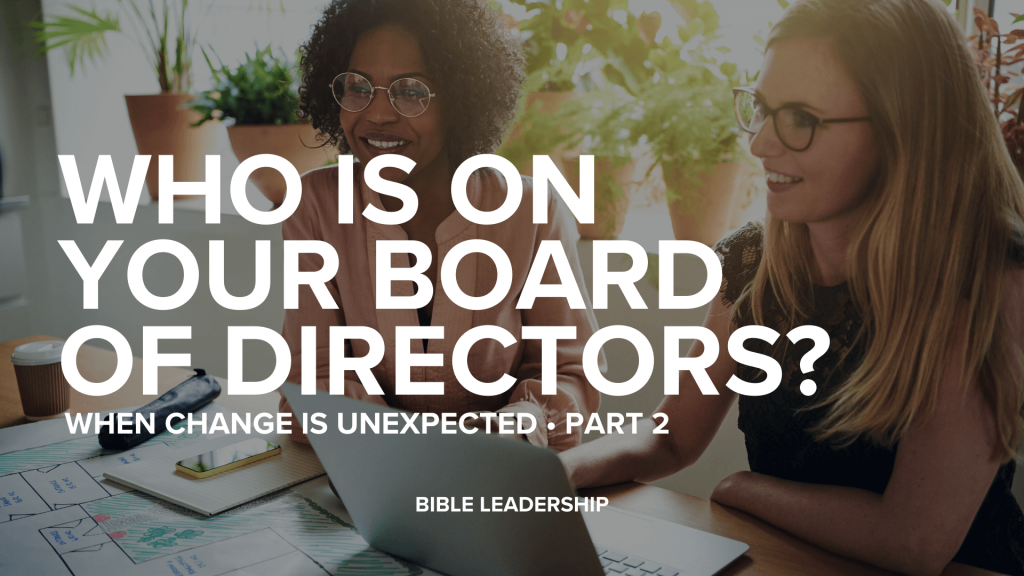 For the leader, the job of asking questions is probably never done.
Where there is no guidance the people fall, But in abundance of counselors there is victory. – (Proverbs 11:14 NASB95)
A lack of perspective outside of our own can lead to a fall.
This is because, especially when change is coming on suddenly, we are more likely to respond in emotion or impulse, potentially making decisions that could be difficult to undo.
Gather Data
One of the most important things we can do when navigating change is to get good information about what may be coming, and how we can respond in wisdom.
Elmer towns wrote,
"You make good decisions on good information. You make bad decisions on bad information. (Towns, Fasting for Spiritual Breakthrough, 65)
Because we need a trusted perspective that is beyond our own, we must have a plan to bring others to our personal leadership table. 
Is the threat of change staring you down and trying to get you to cry "chicken"?
In the next few posts, I'll lay out three places you can go looking for information that will help you make better decisions in the midst of change:
Your God

Your Crew

The Authorities (not the police)
Think of the following groups as your personal board of directors. Each of them is important for different reasons.
The first place you need to get information?
Ask God Some Questions
Of course, the Lord is first.
Even if you have NO ONE ELSE on your personal board, the Lord is the strongest contributor (plus He has all power . . . So . . . One less thing).
A side effect of change is that it can leave us feeling disoriented. This being the case, during a shift is possibly the WORST time to be inconsistently connecting with God.
The Lord knows everything about what is coming, which parts you need to know, and which you don't.
A plain reading of the Scripture would lead us to believe that Jesus didn't go heal Lazarus without the Father's counsel (see John 11:5 and John 5:19). When He might have gone right away, He declined and tarried 2 extra days.
Jesus' determination to be led by the Father (rather than by emotion or even human loyalty), caused the more-glorifying outcome to be attained. 
Ask the Lord,
How do you want me/us to think about this?

What Scriptures would you bring me to in order to shape my heart about this?

How do you want me to be other-centric in this situation?

What are some enemy pitfalls I should watch out for?
It may be that He just wants you to be at peace and be still, or He may want you to jump to action and strike while the iron is hot. Either way, you need to hear Him say it (Here is a podcast on being careful not to walk in PRESUMPTION about God's will).
Where do you look for answers?
Now is the time to be quietly listening before the Lord. If you've kept a spiritual journal, now is the time to review your highlights.
Whatever you do, now is not the time to be neglecting time in God's word. Not only might He use it to bring revelation on what to do (or NOT do), the Word ALONE has the power to show us where our hearts are not in alignment with His.
Remember when we ask the Lord questions* (perhaps accompanied by prayer and fasting when the stakes are high) we need to remember that it may be the case that:
It is not TIME to know.

It is not for US to know (He is going to work sovereignly around us and through the situation, and may just need us to trust Him and keep praying – see Acts 1:7).
In the next post, we'll tackle gaining more insight through collecting data from both your crew and the authorities you're more distant from (but still may have access to).
Want to go deeper? Pick up the Everything Changes series at the BibleLeadership.com store.
*For more on actively listening for the voice of God, check out Joy Dawsons' excellent book, Forever Ruined for the Ordinary, and Dallas Willards, Hearing God.
Related Posts
Want to go deeper?
No Results Found
The page you requested could not be found. Try refining your search, or use the navigation above to locate the post.